Bharatpur - The 'Eastern Gateway to Rajasthan', was founded by Maharaja Suraj Mal in 1733 AD, it was once an impregnable well fortified city, carved out of the region formerly known as Mewat. The trio of Bharatpur, Deeg and Dholpur has played an important part in the history of Rajasthan.
The place was named as Bharatpur after the name of Bharat, the brother of Lord Rama, whose other brother Laxman was worshipped as the family deity of the Bharatpur. The legends say the rulers Laxman's name is engraved on the state arms and the seals. The city and the fort have been believed to be founded by Rustam, a Jat of Sogariya clan. Maharaja Suraj Mal took over from Khemkaran, the son of Rustam, and established the empire. He fortified the city by building a massive wall around the city.
The interesting aspect of the Bharatpur history is the domination of Jats in the region since 17th century. Leaders like Churaman and Badan Singh brought the jats together to mould them into a force to reckon with. Suraj Mal has been the greatest ruler who made them a formidable force and played a very important role in the Indian history during 19th century.
Keoladeo Ghana National Park, popularly known as Bharatpur is India's best known bird sanctuary. This 28.7 square kilometre mixed wetland, woodland, grass and scrub is home to 400 plus species of birds. Only 175 kms from New Delhi, Bharatpur is on the Agra - Jaipur road and a pleasant 3 hour drive from the capital. Keoladeo is both a Ramsar and World Heritage site.
If you are new to birding or you are visiting India for birding, Bharatpur should certainly be at the heart of your plans. With its paved walkways, trained cycle-rickshaw pulling guides, cycling-tracks and, best of all, an abundance of easy to approach birds ~ Bharatpur is geared for birding like few places in the world. A day's birding can throw up 150 + species and I had 152 species on a very crowded day in January 2004.
Keoladeo has been famous for the wintering western race of the Siberian Crane. Unfortunately, the last pair visited the park in 2002-03 and it is likely that this species is now extinct in India.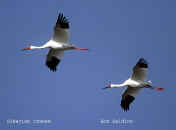 Siberian Cranes - Ron Saldino

But, the sanctuary is not only about Siberian Cranes. Any 1st time visitor is bound to be overwhelmed by the sheer number of waterfowl and waders which congregate on the shallow marshy lakes of Bharatpur. Winter (Nov - Mar) is the best time to visit the sanctuary when Palearctic migrants join the residents. An average day can still throw up many rare and threatened species like the So

ciable

Lapwing, Indian Courser, Imperial, White-tailed, Greater and Indian Spotted Eagles, Darters, Black-necked, Painted and Asian Openbill Storks, Common, Sarus and Demoiselle Cranes, Dalmatian Pelicans, Black Bittern, Greater Painted Snipe, Large-tailed, Indian and Grey Nightjars, Dusky Eagle Owls, Marshall's Iora, Siberian Rubythroat and Brook's Leaf Warblers. The 20 species of ducks, innumerable waders and raptors, water-seeking birds and approachable passerines all add to make Keoladeo a true birder's paradise.

Best Time: November to March

Location: 27*07'-27*12'N, 77*29'-77*33'E